Back
The Essential Guide For A Successful Move
Moving goes hand in hand with big life changes. Things like job changes, education, relationship changes, buying a new house, upsizing, or downsizing to meet family demands are the common reasons a person may move.
And if you're planning a move, you're not alone. Research shows that about 40% of Australians move at least twice in five years while Americans move about 12 times in their lifetime. Look at the stats below for an example:
According to internal migration statistics for 2018 and 2019, approximately 400,000 Australians moved between states, a 2.9% increase from 2017. The state of Queensland showed the most significant gain from the interstate move, while New South Wales (NSW) saw the biggest loss. By the end of June 2019, the migration distribution was as follows:
Gains
Queensland gained 22,800 new residents

Victoria gained 12,200 new residents

Tasmania gained 2,000 new residents
Loss
NSW lost 22,100 residents to other states

Western Australia lost 6,500 residents

South Australia lost 4,400 residents

Northern Territory lost 4,400 residents

Australian Capital Territory lost 190 residents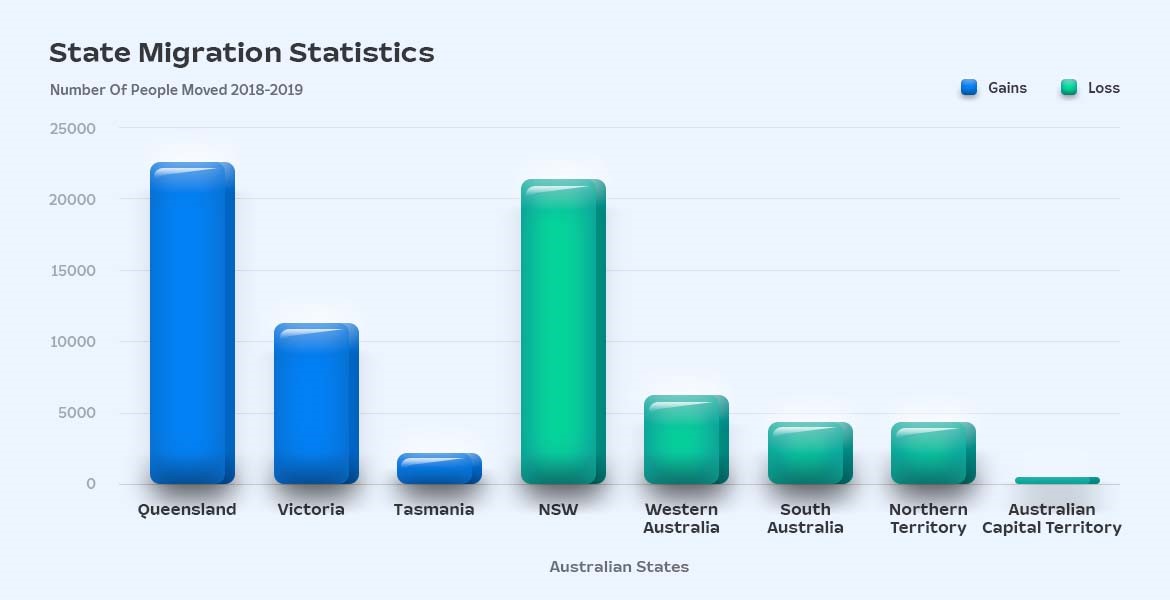 While moving is something you may have experienced before, it always comes with some level of stress and anxiety. A study conducted in 2021 showed that 48% - 55% of the respondents experienced stress and anxiety respectively, in their recent move.
This is understandable. Moving isn't easy. However, you don't have to be anxious. There are things you can do to make the move less stressful and a success. This guide will cover what you need before, during, and after your move to help minimize stress and to help you settle into your new home faster.
Let's dive right in!

Before You Move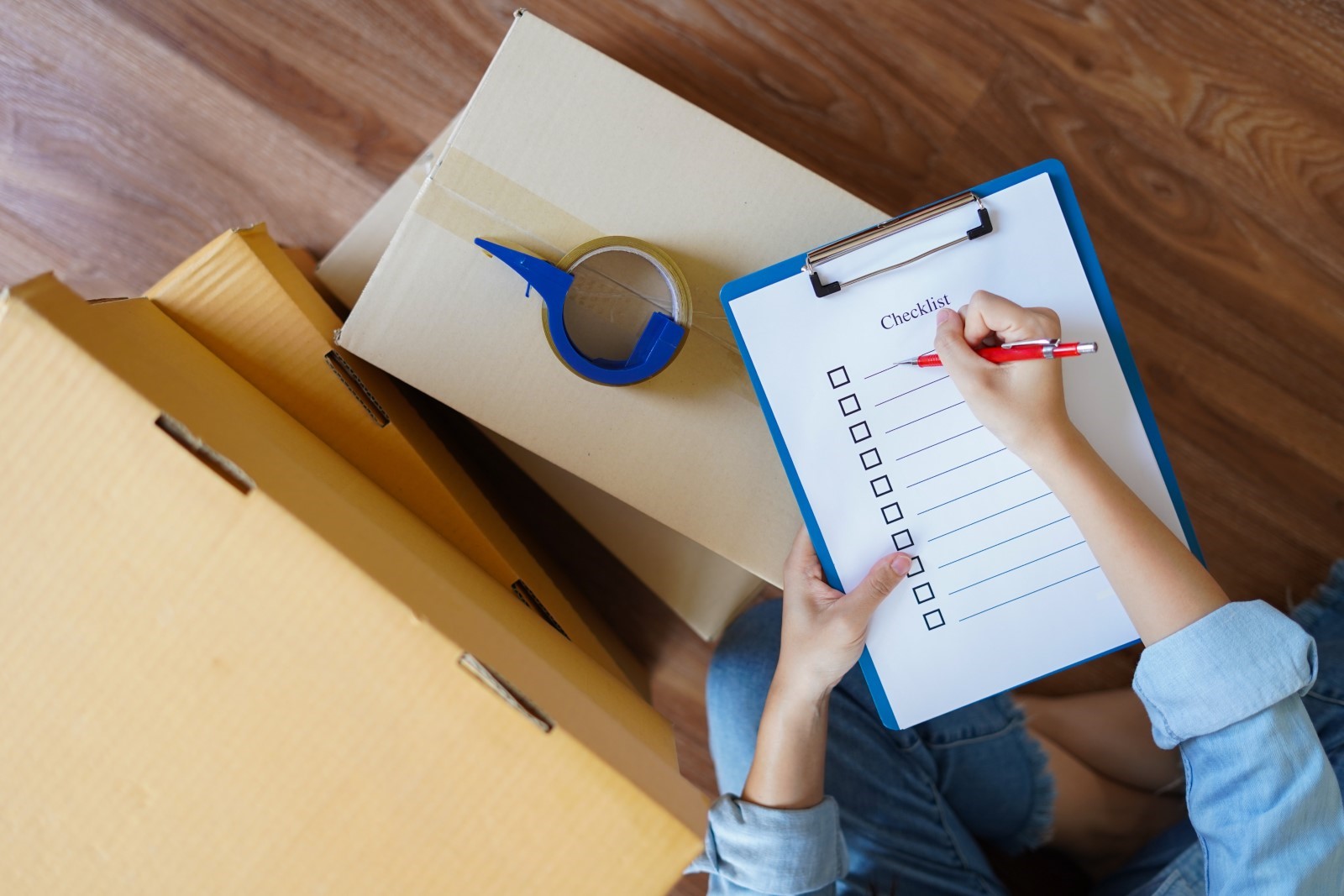 Moving begins way before you start packing your items. It's a good idea to create a proper plan and have a moving checklist. Here's what to do when preparing to move:
1. Create a Timeline
Moving involves a lot of moving parts. It's essential to create a timeline of events leading to the moving day. This will keep you organized and on schedule with the things you need to complete. Some of the items to have on your timeline should include: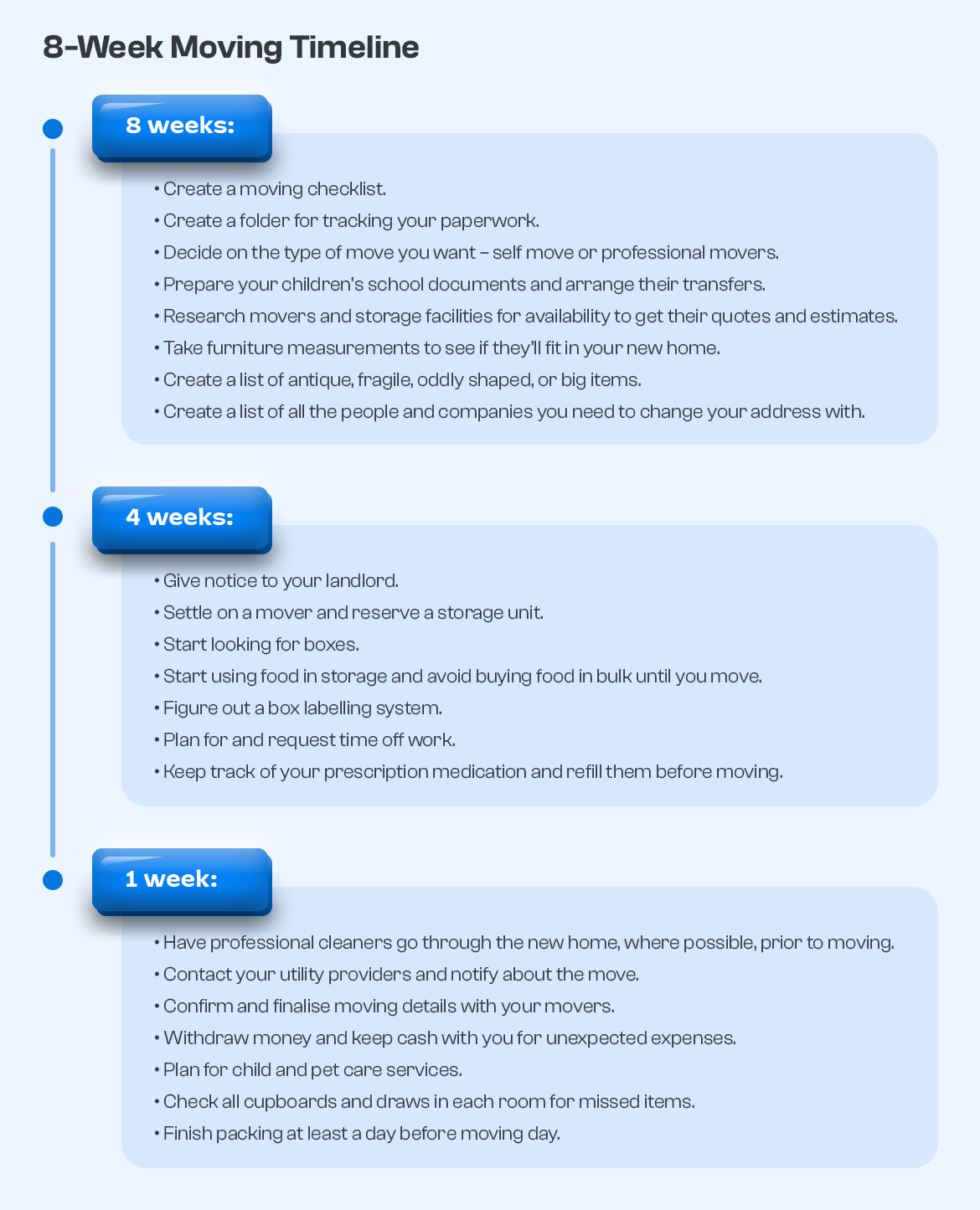 Having a calendar of events will save you the last-minute rush. It will also help decrease moving anxiety, and limit the risk of failing to meet important deadlines.
2. Prepare a Budget
Moving isn't cheap. To stay clear of financial hiccups during a move, plan for the expenses. Below are the average costs from different regions on how much money moving can cost you:
Australia:

A local move will cost you between AUD$300 -3,500.

You can expect to pay more for an interstate move and when other factors are involved.

United States:

USD$800-1,500 for a local move and USD$2,200-5,700 for long distance moves.

United Kingdom:

£

1,200

for a three-bedroom house within 50 miles. It'll cost more for a bigger house and longer distance.
Moving depends on many factors like:
Size of your home

Load volume

Where you're moving to

Accessibility to your home

Whether it's a local or an interstate move
Looking at the figures above it's clear moving can be expensive. Preparing a budget is the best way to keep expenses in check and save where possible. The important things to consider in your budget include:
Moving charges:

Whether you hire professional movers, or decide to move things using your family truck, it'll cost you money. If you're hiring professionals, compare quotes for average costs. If moving home by yourself consider fuel money, moving supplies, babysitter fees, paying someone to help load heavy items, etc.

Storage costs:

If you're downsizing, you'll need a place to store some of your items. Quotes from storage facilities can help you manage the cost to fit your budget.

An emergency fund

: You also need to have a contingency fund for emergencies and unexpected expenses. A car might break down, an injury can happen, or you might need alternative accommodation. Having a budget of $500 - $1000 for emergencies is a good starting point.
Careful budgeting is essential to any successful move.
3. Canceling and Starting New Services
As previously mentioned, moving involves transferring your life to a new location. You need to cancel your bills, subscriptions, and all services linked to the address you're moving from. As you cancel, remember to set them up for the new home.
These are the services and utilities to close and transfer:
Water and power

Natural gas

Internet services

Home security

Heating, Ventilation, and Air Conditioning (HVAC) services

Landscaping and cleaning services

Subscriptions

Mail redirection
You can use this home utility and services hub to see all the essential services and utilities you need to organise.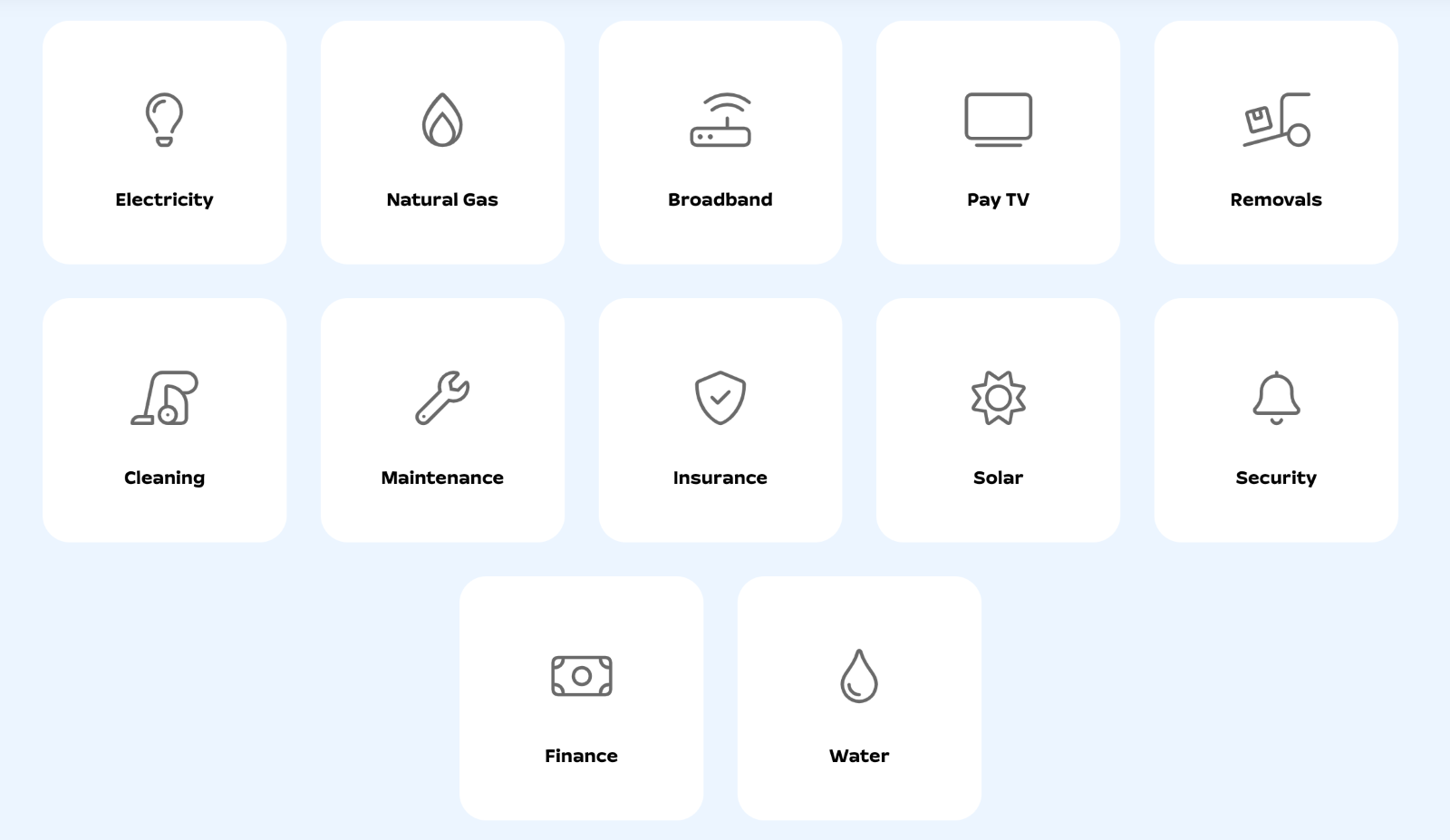 The best practice is to allow a few days to overlap between closing and opening of utilities and services. For services like home security and internet, check if your current provider offers services in your new area. If not, research the most trusted service providers in the area to make an informed decision.
Remember to also notify your bank, insurance, and other institutions of the change of address to avoid missing out on important notifications. In addition, new license plates will need to be issued if moving across state lines.
Preparing For The Move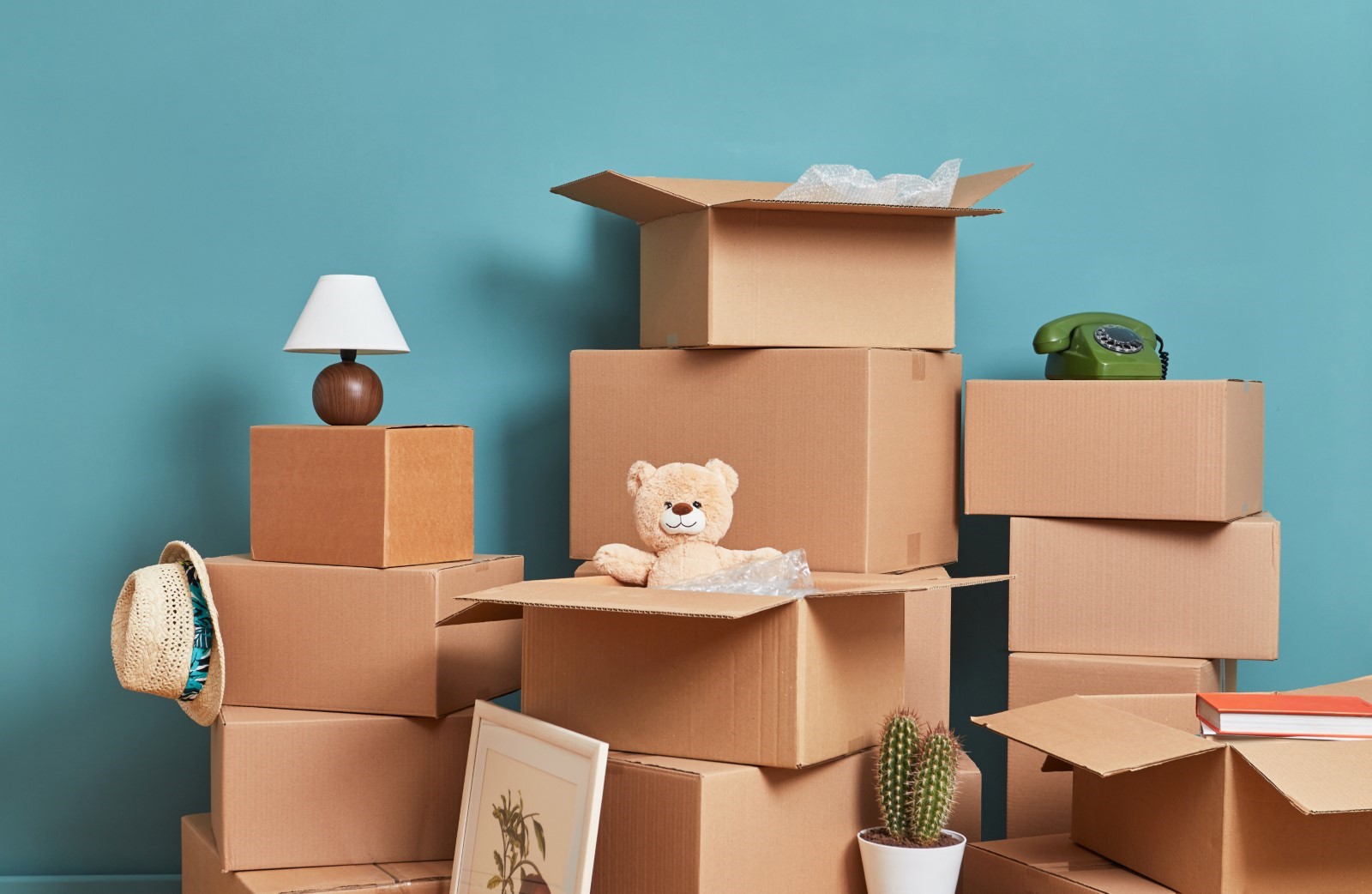 Creating a plan for the move is only the first step, taking action to make the move possible is the most crucial part. There are several things you need to do to keep your timeline, budgeting, and other plans on track. Here's the best moving hacks to achieve that:
1. Packing
Packing is labour intensive and can take a lot of time. You need to do it correctly to avoid confusion, damage, or loss. Here's some tips when it comes to packing:
Start packing early.

As soon as you have a moving date, start sorting your items. It's best practice to sort items into categories. Here's an example:
Valuables/fragile items together.

Items that are used and not used frequently. This will help your household running normal.

Items from the same rooms together.

Important documents.
Decide on moving box size:

Get appropriate moving boxes and containers based on the types of items you own. Moving boxes are available in:
1.5 cubic ft/42L:

This is the smallest packing box and ideal for packing small and heavy items such as books and photos.

3.0 cubic ft/84L:

This medium sized packing box is ideal for the kitchen, carrying small electronics, outdoor tools, and kitchen appliances.

4.5 cubic ft/127L:

A large size moving box ideal for packing clothes, larger items like lampshades and non-fragile kitchen items.

6.0 cubic ft/169L:

This is an extra-large box you can use to pack your bulkiest yet lightest items like blankets, pillows, comforters, stuffed toys, and rugs.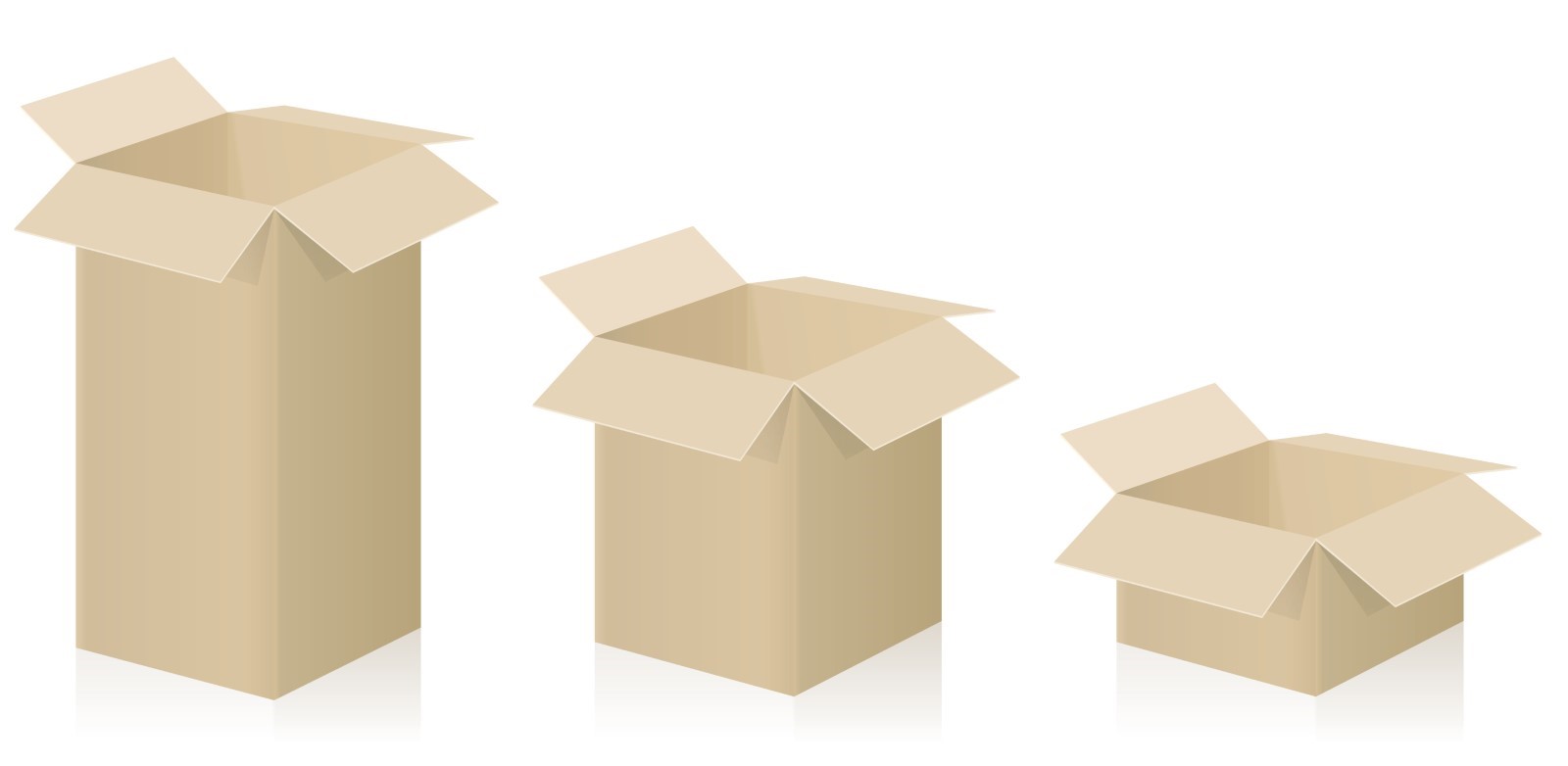 Label everything properly.

When labelling:
Write which room it comes from.

Write the words upright to how the box should be opened.

Write fragile on boxes and put an arrow pointing to the top of the box.
Keep an inventory of how many boxes are ready for moving per room\
Doing this while packing will save time later.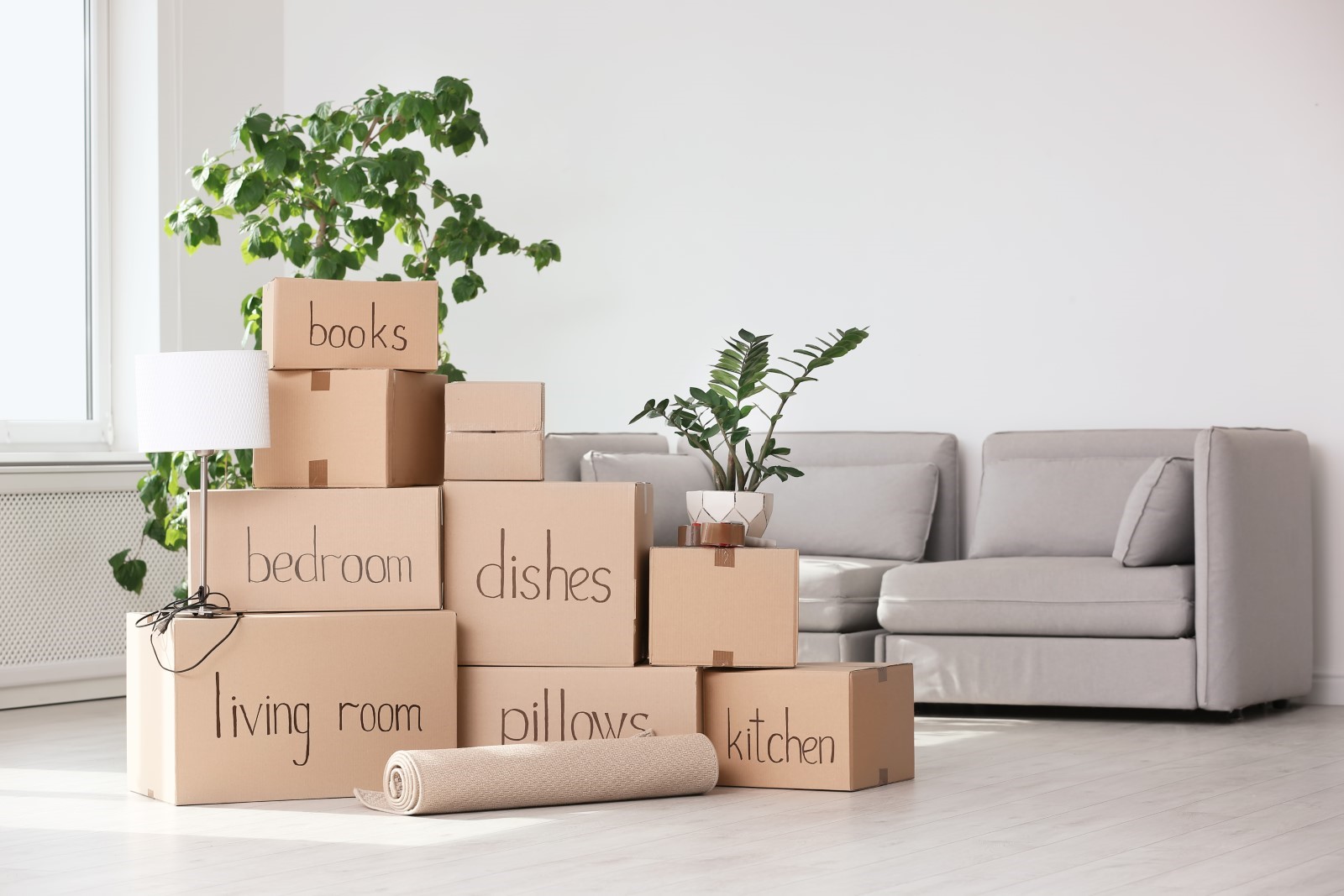 2. Donate or Dispose Items You Don't Need
Moving provides a perfect opportunity to declutter your home and remove items you don't need. As you're sorting and packing your items, separate what you need from what you can move without. You can give donations or arrange for a yard sale to raise money. Decluttering could also help reduce moving costs.
3. Inform your Neighbours
It's courteous to tell your Neighbours you're leaving, especially in a Homeowners Association (HOA) setting or those you share a driveway or boundary with. Give them the date you're leaving. This will allow them to prepare and to say goodbye if they wish to.
During the Move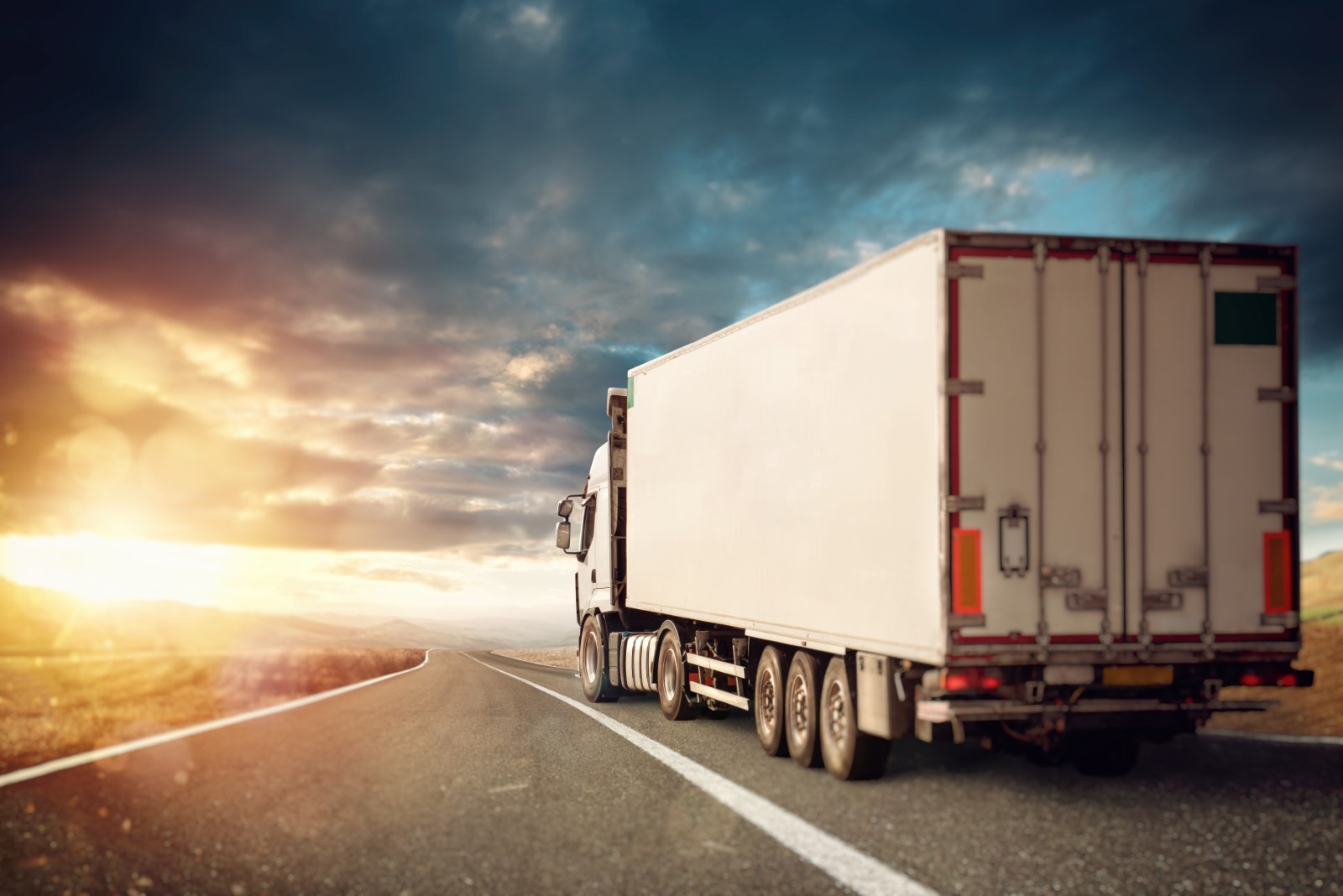 You've checked all the boxes in your pre-moving plan and the moving day is finally here. Undoubtedly, moving day can be a lot to handle. But doing certain things can make it easier on you and your family. Consider the tips below:
Wake up early:

Every minute counts on moving day. You want to have enough time to move your items and settle in the new home. Wake up early to make sure everything and everyone is ready for the move. This will help you start your day on the right note. It'll also give you time to direct your movers and your family members on what needs to be done.

Pack an essentials bag:

These are items you need at arm's length on moving day and for the first day in your new home. They include:
Toiletries

Medicine

Bed linen

A change of clothes

Communication, play devices, and laptops

Kids toys

Car keys

Pet food

Phone charger

Food and snacks

Towels and soap
You don't need to be opening boxes just to find toilet paper or your child's favourite toy.
Charge your devices:

It's important to have your devices fully charged to stay in touch with your movers, family, and estate agent, if applicable. Consider having a fully charged power bank as well just in case.
Do a thorough house check:

When moving it helps to do a final sweep of all the spaces in your current home including the attic, basement, and crawl spaces. Also check any built-in wardrobe draws, kitchen cabinets, and laundry/bathroom cupboards.

Be available:

Be available to answer any questions your movers have as well as give the appropriate directions on how you want your items handled. Being present and available can save you from having damaged or lost items. However, don't micromanage, particularly if you're using professional movers. Your interference may slow things down.

Time your move:

When moving into an apartment block, or even in areas where traffic can be heavy, time your move. You don't want to arrive when people are coming in and out at the busiest times. Eg: school time. Small things like this can make a big difference during your move.
After the Move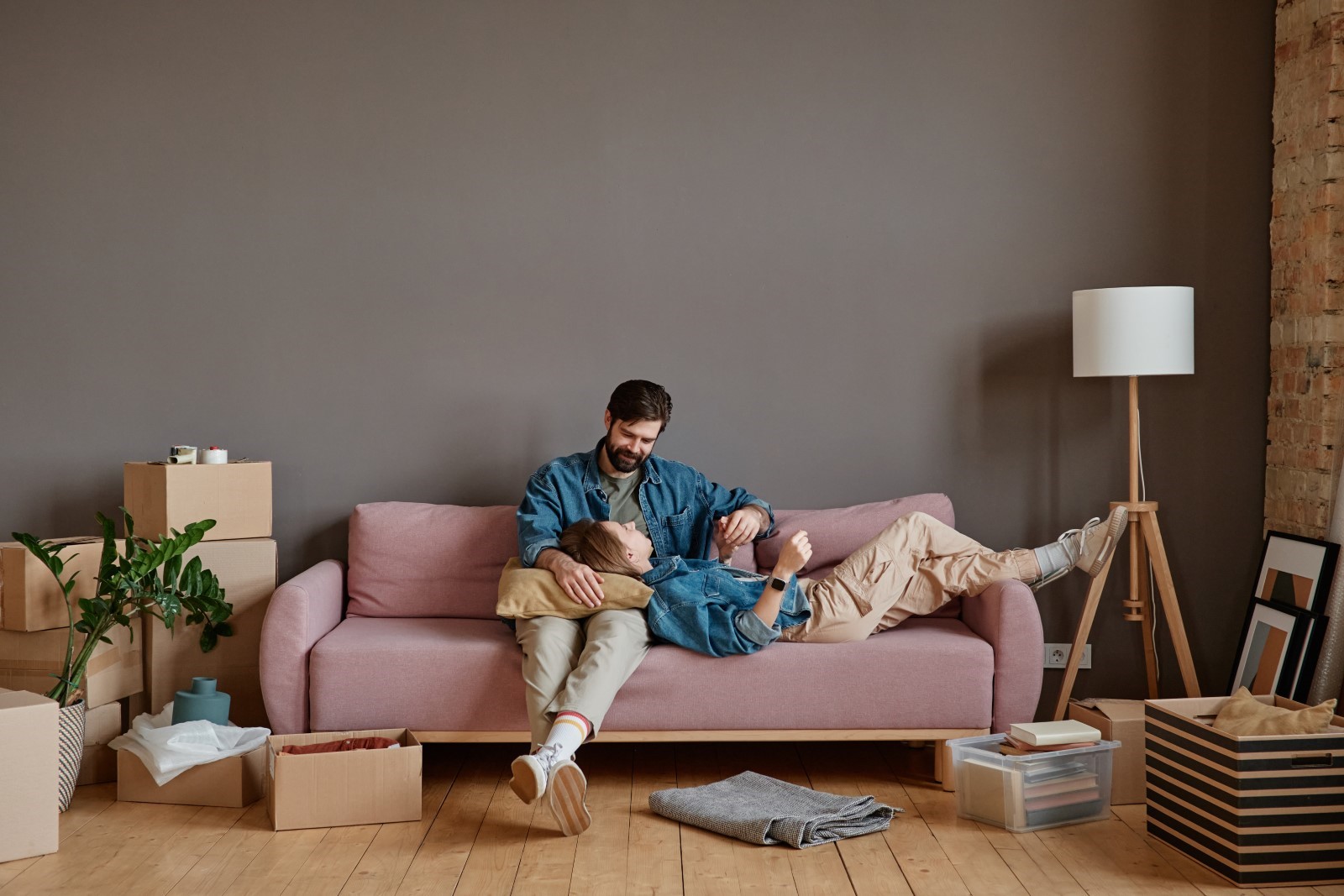 Congratulations, you've successfully reached the final phase of moving. But you still have a long way to go before you settle in. Here are a few things to ensure you end everything on a high note.
Inspect the home:

Before you unload your items check everything is working as it should. Confirm the smoke detectors are working. Locate shut off valves and circuit breakers. Check for any internal damages done by previous owners or tenants. It'll be faster to do this when the house is still empty.

Give your movers a short tour of the home:

A small walk through of the home set up will allow the movers to place your items in the right location.

Inspect your belongings:

Check for damages to your items and cross check your inventory to see if all your items made it safely to your new home. If you're using hired movers, this will help in laying any claim that may arise in case of loss or damage.

Set up the beds first:

You don't need to unpack and arrange your items on the first day. Take your time and prioritize what needs to be done first. Beds are always a good place to start. After all is said and done, you want to have a place for you and your family to lay down and rest after the end of a long and tedious, yet successful move.
Ready to move?
There's no magic trick to a successful move. All it takes is proper planning. Fortunately, you don't have to do it alone.
Don't get stuck. We have a free service that can help you manage your move and settle you in your new home quicker. Are you moving home soon?